The flight from Israel to BCN wasn't the best schedule, there were better connections and shorter travel times, but NOT using super saver miles AND arriving in the afternoon. But now we were in Spain! and the start of the last part of our 6 week trip – revisiting Barcelona; seeing how the Sagrada Familia was coming along; The mountain and Monastery of Montserrat; Costa Brava, and a last couple of days in Madrid.
Best things about the trip
Beautiful, cosmopolitan, clean Barcelona
Sagrada Familia
Food – special plates at Zanpanzar and pintxos
Worst things about the trip
Waiting to get into the Sagrada Familia until 30 minutes before our elevator ticket time
Would I change anything?
Drive from Barcelona via an inland highway and THEN over to the coast to Lloret de Mar instead of the coast road all the way.
View my map of this Spain trip locations
---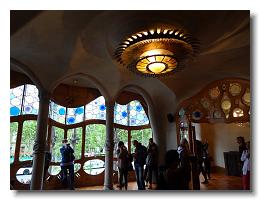 Casa Batllo
Barcelona
The Urban Suites, loved it so much we turned a 3 night stay into 4!
Last time we visited Barcelona was November 1996 and we were looking forward to seeing Barcelona in the long days of May and visiting some amazing Gaudi sights, but after that rough travel day from Israel the first day plan was just to stick around the neighborhood, get some tapas and groceries and sleep. Made a reservation for Monday for the Nativity Tower at the Sagrada Familia. Tip: When you select a time for the elevator up a tower, this should be no longer than 1/2 hour from the time you want to arrive at the Cathedral. The timed ticket won't allow access to any part until 1/2 hour before.
Casa Batllo – a work of art
The Gaudi sights we saw way back in 1996 were the Sagrada Familia and La Pedrera. This year we started with Casa Batllo – worth every bit of the crowds – a magical feast for the eyes. What a genius Antoni Gaudi was! He designed everything, the fantastic and colorful organic forms, windows, doors, door knobs!, furniture. Imagine what it must have been like to live in such a space. Tip: Go early! We got there at 11:00 and there was quite a long line to buy tickets, and the inside was teeming with people.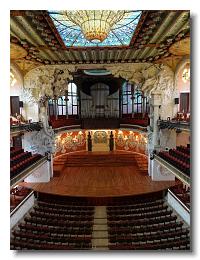 Palau Musica Catalana Barcelona
Palau de Musica Catalana – Art Nouveau!
A short walk down Passeig de Gracia from Casa Batllo and you're on a nice pedestrian street. Hang a left and make your way to Palau de la Musica Catalana. Great tour of this wonderful music hall.
Santa Maria del Mar – Ultra Gothic
Another short walk down to the Cathedral for a quick look at the facade. Then on to the Church of Santa Maria del Mar. There's a nice tour that takes you up to the roof for some fantastic views. One thing that is absolutely amazing is… the roof tiles. They are ORIGINAL! Hundreds of years old! Made of porcelain and you can (and we did) walk on them. Try that on my clay tile roof at home. Uh uh, I don't think so.
By this time we're a little hungry, wandering around looking for just the right tapas place (outside tables, good prices, not "touristy") and we finally gave in and parked ourselves at Taverna del Bisbe near the Cathedral. I don't think you can go wrong with any tapas place, and we had some great food and beverage. It was very windy, the only downside to our outdoor table.
Well, what now? We headed over to Las Ramblas because after all you HAVE to check that scene out! It was fun – didn't see any pickpockets or any trouble and you bet we were on the lookout, Barcelona's reputation is terrible. Down Ramblas to the Port. Where are all these people going? Why is this promenade on the Port so popular? Oh! there's a mall out on the port! Restaurants, shops and movie theaters. Even parking.
Magic Fountains of Montjuic
We're at the bottom of Ramblas near the port and a metro about 8:30pm, so how about seeing what those fountains are about? A quick metro ride (did I mention get a T10 ticket?) and we were getting off with hundreds of other people to see the free show. Fun! Not like The World of Color at Disneyland, but quite a nice thing to do that all the locals do too. Tip: A T10 transport ticket is a 10 trip metro/train ticket that you can share, also works for the train from the airport to Sants.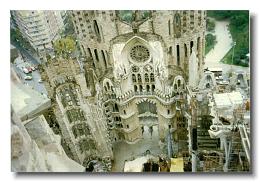 Sagrada Familia in 1996, view into the roofless cathedral from the elevator in the Passion Facade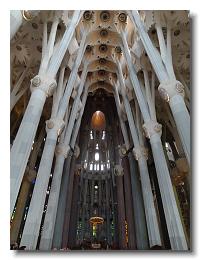 Sagrada Familia Central Nave
Sagrada Familia
The Sagrada Familia interior is unbelievably beautiful. In 1996 the roof wasn't on. Now it is a full blown, consecrated Cathedral and the inside is just spectacular. Everything is designed around nature, the central columns like a forest of trees branching at the top, supporting a canopy of leaves. We were there for hours. If you think you can see it just from the outside you are missing the best part.
Tip: When you get a timed ticket to one of the elevators, you are not allowed entry to any part of the cathedral until 1/2 hour before your elevator time. This was a surprise to us, I'd selected 1:00 pm as the time to go up the elevator, thinking we'd go earlier and look around inside for an hour or so and then go up to the tower. We had to kill some time looking around on the outside before we were allowed in.
Tip: Get the audioguide!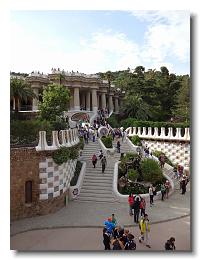 Parc Guell
Parc Guell
After the Sagrada Familia we got on the metro on the corner, made a change, and got off at the Vallcarca stop. From here you walk down (literally – downhill) the street a couple of blocks, turn left and HEY! COOL! Escalators! The escalators take you up some steep hillsides to the top of Parc Guell. We had our picnic at the top and walked down to enjoy every bit of the park we could, even the Gaudi House Museum. Left the way most people come in, at the lizard fountain and the buildings at the entrance.
Tip: It's a long walk from the Parc Guell entrance to Lesseps metro, but at least it's downhill. You don't even have to change metro lines if you're headed back to The Urban Suites – the Tarragona stop is a block from the apartment.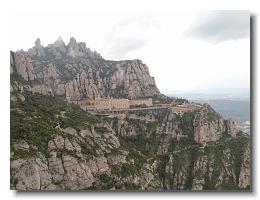 Montserrat
Montserrat
My original itinerary had a drive up into the Pyrenees and a one night stay at the Parador de la Sue D'Urgell, even though that plan changed we'd already pre-paid the rental car through AutoEurope so we packed another picnic lunch, picked up the car at the Sants station and off we went, about an hour drive to the gondola station. Looked around a bit at the monastery and then got in the long line for the Sant Joan Funicular to get to the top for a hike out to the Hermitage (Ermita de Sant Onofre) and then down the mountain back to the monastery. Monserrat is popular with tour buses full of kids! And the kids were enchanting, they wanted to know all about us – "Where are you from? What's your name?", and usually all at once. The monastery itself was no big deal, sat down for awhile and watched the long line of people waiting to touch the black madonna for a few seconds. Sampled and bought fig cakes from the vendors and when through with Montserrat headed to see the Parador de Cardona. A bonus was a magnificent view of the Montserrat mountains as we drove back to Barcelona from Cardona.
Tip: Don't leave your umbrella in the car! The beautiful sunny day turned into rain on our hike. Fortunately we were at the caves in the Hermitage and holed up there until it passed over.
Great Tapas: One block from the apartment is Zarautz Restaurant, a terrific place for pintxos – tapas Basque style.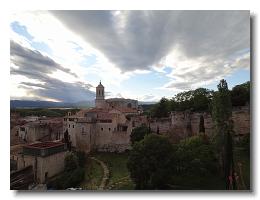 Girona
Costa Brava
A drive up the slow coast route, stopping here and there – particularly the beautiful scenery between Tossa de Mar and Sant Feliu de Guixols. Tip: Skip the coast drive from Barcelona to Lloret de Mar, it's slow and not really interesting going through those cities and that way you'll have more time in Girona. The good part of the coast drive starts at Lloret de Mar.
Girona
How did we get so lucky? Our Junior Suite at Hotel Nord 1901 was upgraded to a spacious 2 bedroom apartment. Now we never wanted to leave. Girona is a great place to base a Costa Brava stay, plenty to see and do plus lively and fun at night.
Tip: You can park for free under the train tracks a couple of blocks from the hotel, although it may take a couple of tries circling the area to find someone vacating a spot.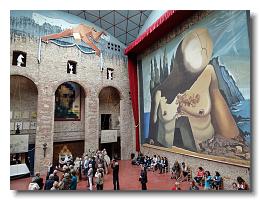 Dali Theatre Museum Figueres
Dali, Dali, Dali
I'd never known much about Dali… then I watched a DVD movie "The Dali Dimension: Decoding the Mind of a Genius". Wow! He was REALLY interesting, and read and conversed about physics, science, psychoanalysis. Good prep for learning something about him to get more out of visits to the Dali Museums. And visit the museums we did – First was the Dali House in Port Lligat. The tour was about 30-40 minutes, and after you can look around the garden and the interesting pool. It was really windy, and after a short visit to Cap de Creus we headed to Figueres for the Dali Theatre-Museum there. Ended up with only over an hour to see it but it was enough. This museum was absolutely swarming with teenage school groups. Didn't enjoy that part.
Another day, another Dali – a nice drive to Palafrugell and…why not stop at at the Castell Gala Dali in Pubol? It was interesting and good for an hour. On to see the 5th century BC Iberian ruins at Ullastret with a picnic break. A little further and a stop at the stone village of Peratallada. Finally down to take a look at Calella de Palafrugell and relax with a cappuccino in Port Bo, a lovely spot.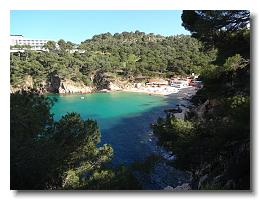 Aiguablava
Beautiful Costa Brava
A day for coast walks – the weather was sunny but extremely windy, this was a day to tie your hat to your head, put on your sunscreen and see more of the coastline. First – a coast walk in Sa Riera north around the nude beach at Cala Moreta; next, a walk from Aiguafreda to Sa Tuna; and finally the most beautiful cove of all, a coast walk in Aiguablava. Aiguablava may be dominated by the Parador de Aiguablava high above, but it is the most protected cove.
Tip: Stop at the Tourist Info office in Begur and get a map of the coast walks. Handy restroom too.
Tip: You can walk up to the Parador from the parking lot at Aiguablava, a nice spot for a refreshment.
Great Special Plates: a few blocks from the apartment across the Onyar river is Zanpanzar restaurant, the pintxos are good but the special plates are FANTASTIC! Now we're hooked on Basque style. So good we ate here all 4 nights we were in Girona.
Leaving the Costa Brava
An easy drive down the toll road AP-7 from Girona to the Barcelona Sants station to get the high speed train to Madrid.
Tip: I bought the Promo+ ticket way in advance and reserved seats 10C & D on the Renfe website, when we got on board we found this didn't have a window and moved to the vacant seats 8A & B. If you get a ticket where you can pick your seats, choose row 8 or 9, or 11 and 12 in the middle of the train. (No view in row 7, 10, 13… ) Row 9 has a better view of the TV screen, which didn't matter to us because the movie was dubbed in Spanish with Catalan subtitles.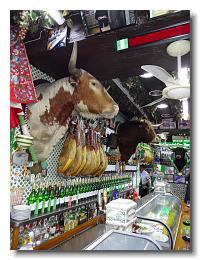 La Torre del Oro Bar Andalu, Plaza Major
Madrid
We love Madrid, but we only had 2 nights there – this time in a Junior Suite at Room Mate Mario, a terrific location easy to walk to after late night tapas, and only a 20 minute walk to the Prado. Tip: If you want to heat water for instant coffee, ask the front desk for a kettle.
Finally tried chocolat con churros at Chocolatería San Ginés, open 24 hours! Good thing, we were out late. Tip: Chocolat, a few blocks from the Prado, has better chocolate and churros.
A full day in the Prado, a full night hanging out in different tapas bars and a late morning flight out. Life is good.
Leaving Madrid
Travel: We flew home from Barajas airport with only one stop to San Diego. A nice finish to 6 great weeks starting in Vienna, then Prague, followed by Israel, and 10 terrific days in Spain.
I knew only 10 days in Spain was pushing it, but wanted to keep this whole trip down to 6 weeks. Was 6 weeks a bad idea? too much? NO! It was a great length of time and we were ready to go somewhere else within just a few days of being back.
---
Spain Handy Resource List
We didn't have any experiences with pick pockets or theft, but it is a big problem. Here's some tips from Barcelona Tourist Guide on keeping your stuff out of the thieves hands.
Sagrada Familia

9-8
Get a timed ticket up to 2 months in advance to save the time in line!

Timed tickets can be purchased on their website (ticketmaster) OR at any La Caisa ATM machine in Barcelona, or at the TI in Placa Catalunya. Tip: I wanted to wait until we got to Spain to see what the weather was like, they don't give you a refund if the tower is closed. Tip: The ticket bought on the website (Ticketmaster) is emailed to you as a PDF – ask your hotel if they'll print it for you.

Palau de la Musica – daily tours every 30 minutes. 10:00am – 3:00pm.
Casa Batllo – daily 9am – 9pm, some days closes at 2:00 pm.
Parc Guell – bus #24 from Passeig de Gracia metro (across the street from Cata Batllo), or metro to Vallcarca stop if you want to enter Parc Guell from the top by way of the the escalators on Baixada de la Gloria, or metro to Lesseps stop and a long walk to the entrance.
Metro: For City Center (Zone 1) – a T-10 metro ticket costs €9,80 for ten trips on metros and buses and can be shared. Buy at the entrance to any metro station. Barcelona Tourist Guide
Montserrat

Free parking – Rack railway or the cable car stations
Pick up map from TI and audioguide (6Euro)
Cable car to the top (Aeri de Montserrat) – 5 minute ride, runs every 15 minutes
From the Monastery, St. Joan Funicular to top, 45 minute walk down (One way ticket)

Cadaques and Port Lligat – Dali's House

Book in advance on their website, you are only charged an €8 reservation fee with the balance due when you arrive to pick up your tickets.
If you miss your reserved time, you forfeit the reservation

Figueres – Dali Theatre-Museum
Madrid Metro – handy map to see which route to take and how long it takes
Spain Train Fares
Tip: Get your ticket in advance on the Renfe website and save LOTS of money! (My experience, Barcelona to Madrid – Renfe discounted fares showed up at least 82 days in advance)
Tip: The credit card you use to pay for the Renfe tickets must be able to participate in the Verified by Visa or Mastercard SecureCode free security programs. Both my Chase Sapphire World Mastercard and Capital One Visa don't participate, however my Chase Miles Plus Explorer Visa does. You don't sign up for the Verified by Visa program in advance an longer – at least not with Chase – on the Renfe site after you type your CC info you are presented with a separate window to enter the last 4 digits of your SSN, then the transaction goes through. Paying the foreign transaction fee was worth it to be able to get the super low PROMO fare on renfe.com. BTW: I bought the Turista PROMO+ ticket for €45.90 each and picked my seats. Full fare was €106.70 Euro each. Tip: The Miles Plus Explorer Visa no longer has foreign transaction fees (as of 6/1/2013).
Train classes:
Turista= 2nd class, 2 seats each side of the aisle. Access to cafe car.
Turista Plus=nicer 2nd class, 3 seats per row (2 on one side of the aisle, 1 on the other= "2+1"). These are Preferente seats with more leg and elbow room, but without the complimentary meal, wine, or access to the station lounge.
Preferente: Business class, 2+1 seats across the width of the car, complimentary meal & wine included on AVE & Altaria trains, access to Sala Club lounge at major stations with free beer, juice, tea, coffee.
Club: First class, leather seats, fewer rows in the car. Food and drinks.
Train prices decoded:
M (Mesa)= 4 seats with a table, 2 seats face backwards. Have to buy the group of 4 seats.
P (Promo)=No changes or cancelations. Cannot choose your seat?
P+ (Promo+)=Changes cost 20%, cancellations 30%. You can choose your seat.
F = (Full price) Changes are free, cancellations cost 5%
Tip: How do you buy online at renfe.com? This Tripadvisor article shows how (the article has grown pretty long, it's really not hard to buy tickets on renfe.com.) See my tip above about the credit card to use!
---