Flying into Lisbon, out of Porto
Easy enough flights – 16-17 hours including 2 connections and we were in Lisbon! This trip was heavy on the driving, on Day 7 we picked up a rental car that we had for the next 28 days – driving around Portugal and Northwest Spain before returning the car to Porto.
Best things about the trip
Portugese pastries and coffee
Outside of the cities and towns, no traffic
Excellent empty roads
Worst things about the trip
After the luxury of time with 10 nights in Lisbon we had 3 series of 2 night stays. We could have used another night relaxing in the Douro River Valley.
View my map of Portugal trip locations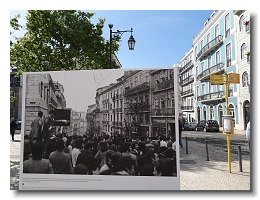 Largo Trinidad
10 Nights in Lisbon
10 Nights in Delightful Lisbon.
Lisbon is easy, the city just feels comfortable from the start. Easy to visit, easy to walk around if you don't require flat. It's also an interesting city, buildings with beautiful tiled exteriors, buildings in great shape next to crumbling abandoned ones tagged with graffiti. Read Story>>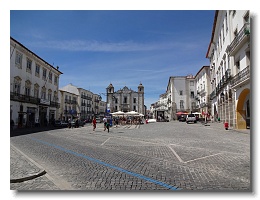 Evora – Praca do Giraldo
Évora
Country Break – 2 Nights in Ancient Évora
A speedy 2 nights, one afternoon to explore UNESCO World Heritage Évora after the drive from Lisbon – plenty of time for the Cathedral, including the views from the rooftop and the museum, the Saint Francis church and bone chapel, and some time to enjoy the public garden nearby. Another day for a drive to sights in the countryside. Read Story>>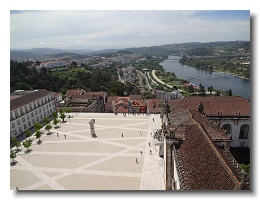 Coimbra University courtyard from the bell tower
Coimbra (KWEEM-brah)
2 Nights in the Historic University City of Coimbra
Why do tourists go to Coimbra? To see the magnificent 18th century Baroque Joanina Library at the University! Coimbra is an interesting city and the University itself is one of the the oldest in Europe, a UNESCO World Heritage Site since 2013. A bonus are the Roman Ruins at Conimbriga, a short drive south of Coimbra. Read Story>>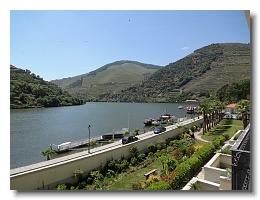 View of the Douro from the room at Vintage House Hotel
The Douro River Valley – Pinhão (PEE-now)
Relaxing in Port Wine Country – 2 Nights in the Douro River Valley
The Douro Valley is a very relaxing place, and 2 nights in Pinhão was a great change of pace. We had a tourist Rabello boat ride on the Douro right away, easily done by getting a ticket through the Vintage House Hotel, and a long ride down the Douro and back up past Pinhao to Tua. Read Story>>
Northwest Spain for 18 Nights
We left the lovely Douro Valley for Spain where we spent 18 nights in the Basque country, the Picos and Galicia before coming back to Portugal to drop off the rental car and see Porto before flying to France.
Rental Car: A 4 door VW Polo from Europcar, got it through AutoEurope with a pick up in Lisbon and drop off in Porto. 28 days and 4,250 Kilometers (2,264 miles) with the VW Polo, it was the perfect size of car for the 2 of us – just big enough cargo space for our 2 carry ons and 2 big laptop bags plus some groceries. Lost some steam going up steep hills, and the pick-up for passing wasn't zippy. But it got great gas mileage and was small enough to park just about anywhere and navigate some tight streets. We were really happy with the little Polo and would rent one of these again. We were lucky too, Europcar didn't have any stickers on it to brand it as a rental.
The car return in Porto was super easy, parked on the street right out front of the Europcar office on Rua Antonio Bessa Leite, walked in and handed the keys over. In minutes they'd checked the car over, wrapped up the paperwork and had a taxi there to take us to our Porto apartment. Really friendly and efficient service, a great end to the trouble-free rental.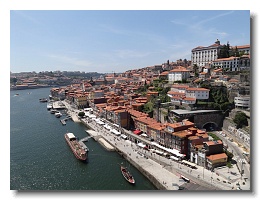 Porto
Porto
3 Nights Up and Down Colorful Hilly Porto
3 nights, really just 2 1/2 days, is about the minimum for Porto. We enjoyed Porto a lot – quite different from Lisbon. We didn't feel like visiting museums and were happy with walking tours and logging a few hours sitting across from Porto in Vila Nova de Gaia with a port and the fabulous view. Read Story>>
Portugal Summary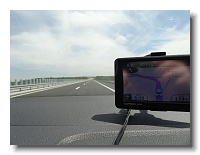 The empty and excellent A13 on the way to Coimbra
Portugal was a friendly, easy country to visit. Strangers on the street volunteer to help out if you look like you're looking for something. A bonus – English channels on TV! Portugal doesn't have the resources to dub over all the movies and TV programming. Another bonus – because they have American English language TV, most of the young people speak exactly the same as you do. Slang and all.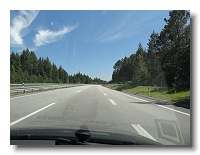 Coimbra to Pinhao
Driving: The roads outside of the cities were practically empty and the infamous Portuguese drivers non-existent. Tip: When you pass a car do your best to ensure you don't have any cars coming up behind you. YOU are probably going the speed limit, and the locals are NOT. If you pull out to pass and get in someone's way of course they are going to be right on your tail.
Driving is far, far worse in California – in fact we see crazy every day in SoCal, people weaving in and out of traffic like a ball in a pinball machine. Nothing like that in Portugal. It was a breeze.
Portugal Top Tip!
Cell Phone and Internet Plan
The TOP Tip: Save LOTS of money with T-Mobile's Simple Choice Plan! – Unlimited international data and text. We have this plan – texting to notify your accomodations of your arrival and departure is easy and free. This is THE plan for international travel.
WIFI calling – FREE!
Turn your phone to WIFI only and if there's WIFI where you are use WIFI calling – free and worked GREAT! If WIFI wasn't available for calling, the T-Mobile Simple Choice international rates are only .20/minute.