Best things about the trip
Unexpected surprise – we loved Rome!
Memorable, fun, and unique experience buying leather jackets in Florence
Impromptu opera while having dinner in Florence
Worst things about the trip
Restaurants closed during the hours we were ready to eat.
The crowds in Florence
Rome
Into Rome via London
Hotel Aberdeen, near Termini train station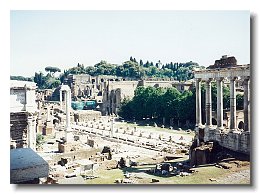 Roman Forum
Nice comfortable place, with super owners. Our first room was large, overlooking the street. We were pretty jet-lagged out from the trip and because this room was so close to the dining room we heard all the foot traffic on the beautiful wood parquet floors from the very start of the breakfast prep.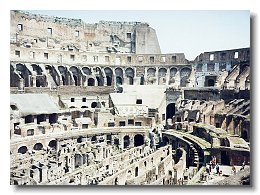 The Colosseum or Roman Coliseum
Rome was wonderful. We were lucky to run into a young American tour guide as he was giving a tour of the Colosseum – we tagged around after them instead of joining the tour. I was impressed with his fast-paced style so we met him for a tour of the Roman Forum fifteen minutes later. He had an interesting life story – he was a theology student when he came to Rome. Fell in love with Rome (and apparently a young Italian lady), gave up his studies and started giving tours to Americans. He said there aren't many good English speaking guides, and I can appreciate that! (We overheard some tour guides where their accent was very pronounced. Also, many of the guides do the tours in multiple languages so you have to wait around while the guide explains everything in different languages.) Back to this tour guide…he had been in Rome for two years and put together his tours by researching books, travel books, etc. His script was great! At the Colosseum he had a large group, however our tour of the Forum included only one other couple. In front of the place where Julius Caesar was killed, he quoted a famous passage from Shakespeare's "Julius Caesar."
We enjoyed his Forum tour so much we told him we would join his "fountains of Rome" tour that night. That was a great way to see the sights at night and feel very safe while we got familiar with the twisting, turning streets of ancient Rome. At that time these tours were about $20.00 a person, cash collected right after the tour, and then we tipped after the nighttime tour.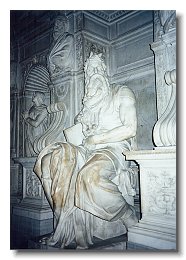 Michelangelo's Moses at San Pietro in Vincoli
In Rome we stayed about a 15 minute walk from the "ancient" part. I had wanted to stay somewhere around the Campo del Fiori, but the hotels mentioned in Rick Steve's and other guide books were booked and we didn't want to fool around trying to change hotels while we were there. So every night we walked down (literally, because our hotel was on higher ground than the ancient city) and wandered around looking for places to eat and looking at the ancient sights which are beautifully lit at night. Consequently, we found ourselves at the Trevi Fountain every night because it was on our way back to the hotel. Always a lot of people just sitting around there so we sat around too. If we ever go back to Rome, I'd like to get a hotel in the ancient part, although not around Trevi Fountain because it is never quiet.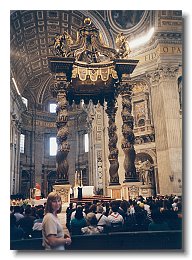 Bernini's canopy inside St. Peters
Ostia Antica – nope, St. Peters
I wanted to go see the ruins of the ancient Roman ocean port Ostia Antica. So we bought some sandwiches, snacks and water bottles and took the train to the port city on Monday. It was closed! All the guidebooks and tourist information said it was open that day but it wasn't. There's nothing else there, so we took the train back to Rome and went to see St. Peters.
Actually that worked out OK because we had plenty of time to look around St. Peters instead of trying to see it and the museum in the same day. If you have time for a tour of St. Peters, look for an American seminary student inside. We had just arrived and I was doing my usual bit of reading to Steve from the guide book when 2 young men in long black robes approached us and asked if we would like a tour! Part of their responsibilities at the Vatican is to make themselves available to American tourists and show them around. That was wonderful! St. Peter's is huge and we got the inside information on the monuments and Popes that were buried there.
Update: There aren't any seminary student guides any longer, there's a stand at the top of stairs before you go into St. Peters where you can buy a guided tour for €20 each.
Leaving Rome
All the guide books mention the roving thieves in Rome. We had an eye-opening experience only on the day we were leaving. Our hotel was a few blocks from the train station and we had cumbersomely wheeled our luggage up and down curbs and cobblestones getting to the hotel. Now we were doing the same going back to the train station – struggling up and down curbs and cobblestones – when three little girls started circling us and saying what sounded like "mi-mi-mi-mi" in their piping little voices over and over again. One of them held a newspaper in front of her and tried to get close to Steve (who was wearing a waist-pack) while the others tried to separate me from him. It was obvious that the strategy was to confuse and separate us while the newspaper hid what her hands were doing. I was shouting "don't let them near you" to Stephen, we were shouting "get away" to them, but they were persistent until Steve finally pushed, slapped or shoved at the girl in front of him at which point they backed off glaring and I suppose cursing. She had gotten the zipper to his waist pack about halfway open.
That was our only bad experience but it was enlightening. The books were right, when you are struggling with luggage you are a target.
Tip: Take luggage that not only has wheels but also has backpack straps so you can carry it over those old streets instead of wheeling it.
5 days in Rome was great and seemed just right.
Next up: train to Florence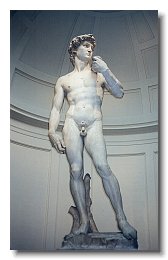 Michelangelo's magnificent David at the Galleria Dell'Accademia
Florence
Hotel La Scaletta, large lovely room with french doors opening to a small balcony overlooking the street. The hotel was in a great location across the Arno, unfortunately we couldn't enjoy opening the doors due to the traffic noise.
The first stop for us was the Galleria Dell'Accademia to see Michelangelo's David. We spent over an hour there gazing at this masterpiece. Imagine this, you're in line to see The David and you overhear two Americans say "It's HOW much? I'm not going to pay THAT", and they left. We couldn't believe it, these tourists actually left Florence without seeing one of the great works of art of the Rennaissance! Warning: In 1998 you could take pictures in the Accademia, but photos are now banned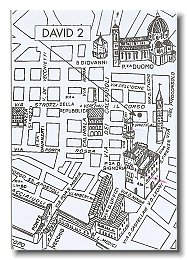 David 2 Leather factory, Via del Corso, 47/r
Another David, this one specializes in leather
Finished the David, the Duomo, the Baptistry and now standing on the street flipping through pages from the guidebook. Up walks a stylish Italian man and young lady, "Can I help you find something?" and after a few helpful exchanges and two great tips on where to have dinner, Franco says "You're a luntzman, right? I have a leather factory, why don't you come to my showroom and try on some coats? I'll give you a good price"
What the heck, sure! Franco took us upstairs to his office at David 2 Leather Factory and we had a great time, some champagne, with staff running up and down the stairs bringing us a variety of gorgeous leather coats to try on. Ended up with 2 beautiful leather coats and an experience to remember. Priceless!
Franco's restaurant tips
Franco's first restaurant suggestion ended up being another priceless experience. We went to Osteria da Quinto and were enjoying a leisurely meal, noticed we were about the last people in the place when a group of 4 came in and sat at a corner booth not far from us. Presently, the owner of the trattoria started singing – Opera! Then one of the men in the booth stood up and started singing – Opera! We were delighted and enthusiastic listeners! As the evening progressed and we were spontaneously entertained, a bottle of champagne was sent our way courtesy of the party in the booth. And the party was on… The group was Rolf and his wife, with the owner of Galleria d'Arte Mentana (Rolf is an artist), and the opera talent we enjoyed was…sadly, I don't remember his name.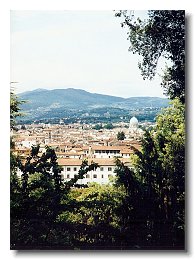 Florence view from Piazzale Michelangelo
We had a great time, Rolf was a super guy and the only one in the party who spoke English, translating everything and with some interesting personal stories of life in Germany and Italy.
Sidetrip to Siena
Bus from Florence to Siena
Interesting place
Rather rude waiters, we didn't WANT to eat 4 full courses! Race cars around the sloping center "square"
5 days in Florence was great
Next up: train to Venice
Venice
Hotel Pensione Guerrato, near the Rialto Market in San Polo
Venice was a great respite from traffic and scooter noise. Best Chinese food ever some place not too far from our hotel. Everything expensive.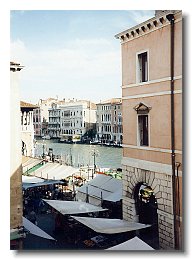 Venice fish market view from our third floor room at Pensione Guerrato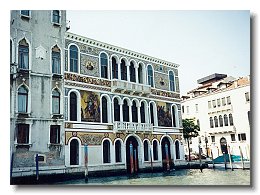 Palazzo Barbarigo with mosaics of Murano glass on the Grand Canal, Venice
After Rome and Florence, Stephen is getting a bit "cathedraled out"  but we loved Venice!
We walked everywhere in every city, but in Venice you are walking over big and little bridges and you aren't facing vehicle traffic wherever you go. The respite from traffic was wonderful.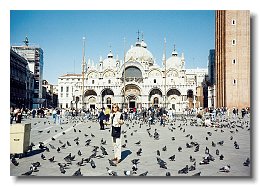 St. Marks square with Basilica San Marco
Glass Factory Tour Crash
Wandering around San Marco square, we saw a glass factory. So we go in. A tour is going on, well…. might as well join in! Saw some glass blowing and after that demonstration we were singled out from the rest of the people and informed that we couldn't continue with the tour we butted in on. We were escorted directly to the showroom. I don't know where else the tour went, but they all ended up in the showroom in a few minutes.
Funny thing, we saw a chandelier in the showroom that seemed just right for the house we were building. We didn't buy it on the spot, we bought it the next year through the mail and now it's our beautiful chandelier with memories. We still think it's funny we were kicked out of the tour.
London
Fly out of Venice to London
Tower of London
The best tip of this trip came from a little advance reading (Frommers or Fodors, don't remember which). You can get a ticket for the Tower of London at the metro! We walked out of the metro, saw the long line of tourists, turned right around and bought our ticket from the metro cashier. Tickets in hand we walked past all the tourists, up to the Beefeater at the entry and were escorted through with a flourish. Felt like royalty.
Hotel – The dollar doesn't go far in London, at $300 a night the hotel was our lodging splurge
Tip: Probably easier and cheaper to take the metro rather than a taxi from your hotel to the airport.
---