6 weeks – Flying into Lisbon, out of Paris
Why is this topic called "How to Eat Your Way Through.." ? Well, this trip was a LOT about food, fabulous food, wonderful pastries in Portugal but mostly the fantastic gastronomic pleasures we knew we would find in the Basque Country. We didn't hold back on this trip.
Our last multi-country trip was such a success we decided another 6 week trip visiting Portugal and northwestern Spain was a great idea. But, we'd flown back to San Diego from Madrid last year so this time – how about flying home from Paris?
We had award miles for business class and snagged a good route on American Airlines for SAN-LIS and a GREAT route from Paris on United.
Loved the idea of Paris to Frankfurt, then all the way from Frankfurt to San Francisco in the upper deck of a 747-400. No stopping on the East coast this year, it's lie flat seats all the way from Europe to the West coast for 10 hours 20 minutes.
50,000 miles to fly to Lisbon – AA business class
50,000 miles from Paris back to San Diego – United business class
KISS Travel planning… Keep it Simple
The original concept to get to Paris was the local Euskotren train from San Sebastian to Hendaye, then the 9:45 am high speed TGV (Train à Grande Vitesse) from Hendaye to Paris.
This plan would mean getting 2 different rental cars, one for Portugal and one for Spain to avoid the steep €1,500 fee to drop the car off in Spain. The other negative about this plan was the travel time involved – An hour on the train to Hendaye and almost 6 hours from Hendaye to Paris. Add to that the logistics of dropping off the rental in Porto, getting to Vigo Spain to get another, and returning the car before the train travel day.
Hmmm, this started to sound like a big time wasting hassle. Decided to keep the Portugal rental car the whole trip and make a Spain loop, dropping the car off in Porto at the end to fly TAP from Porto to Paris in 2 hours. MUCH better! With an advance internet airfare of $173 TOTAL for 2 tickets from Porto to Paris Orly airport, even BETTER!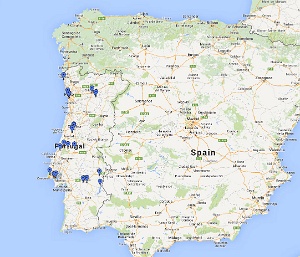 2014 Portugal Trip
10 nights in Lisbon, on the 7th day we picked up a rental car that we would have for the next 28 days – driving around Portugal and Northwest Spain before returning the car to Porto.
Easy enough flights, commuter to LAX then LAX to London Heathrow with a change to British Airways to get to Lisbon.
Going through Heathrow security was a nightmare, don't know what was going on but many many passengers had their carry-ons flagged for special inspection – including ours – and our 55 minute connection window shrank alarmingly as the Heathrow agents struggled to keep up with the volume of luggage they had to hand inspect. It was a picture of chaos and even the agents inspecting couldn't believe the volume flagged. But all was well, we arrived on a beautiful day in Lisbon even though our checked bags straggled in after us, one the next morning and the other another days' delay, temporarily lost in Heathrow.
Renting a Car
Rental cars and vehicles with out-of-town or foreign license plates are frequent targets for break-ins, particularly when parked in popular tourist destinations and beaches. Of course that's true anywhere, and unfortunately rental car companies usually have stickers to brand their cars so it's impossible to blend in. So what to do? We try to plan driving excursions around a base location, leaving the luggage in the hotel. Not easy to do, but losing all the luggage and the laptops would be worse. Especially the laptops. Check the US State Department website for the latest on travel safety info.
What about renting and returning a car in Portugal, and taking it into NW Spain?
Not a problem says the AutoEurope rep, (in our case the rental car would be through Europcar). Europcar has locations throughout, in the case of a breakdown or problem the process would be the same in Spain as in Portugal.

Toll Roads and the Via Verde transponder
Applicable AutoEurope Terms & Conditions extra charges: (Europcar is the provider)

Road tax of approximately EUR 1.50 per day.
Via Verde transponder toll management Service of approximately EUR 1.85 per day (maximum approx €18.50), plus the cost of tolls. You need THIS, the toll roads are unattended! If you don't pay and your rental car doesn't have a transponder you'll get billed for the tolls plus a BIG fine through your rental agency.
IVA (value added tax) – 23% of the Road Tax plus the Transponder.

Our 28 day rental through Europcar for Taxes and Transponder fees were

Road Tax – €42
Toll Transponder – €15
IVA 23% of the above – €13.11
TOTAL extra on returning the car – €70.11
Tolls came through from the rental car billing a month or so later and were $103.
Other Car info
AutoEurope was great – On January 25 I booked our 28 day rental for $684.38, with the provider Europcar. On March 14 the same rental was $580.36! Called AutoEurope and they re-booked the reservation for the lower price. Great service!
Make sure your Portuguese car rental has an emergency breakdown kit:

Flares are not required in Europe – expect the following in the car: A warning triangle plus reflective jackets for everyone inside the car. At least one! In Spain ideally you should have 2 triangles but it is not necessary for non Spanish cars. These should be put out when you have broken down and in an accident you should use the hazard lights too. Jackets must be worn when exiting a car after a breakdown or an accident. So the jackets must be stored inside the car where they can be put on before leaving the car. Fines are heavy if the laws are not complied with.
When witness to an accident you are supposed to stop!

NW Spain

18 nights of pintxos! The first Spain stop was an overnight in Valladolid on the way to San Sebastian. A week in that gastronimic world capital with day trips, then west for 4 nights in the Picos de Europa. Down to Santigo de Compestela for 3 nights and Pontevedra for 3 nights with day trips around the Rias Baixas.

Paris

Only our second visit to Paris, but last time we went up the Eiffel Tower, over to Sacre Coeur and had a great day trip to Versaille. With only 5 nights in Paris we didn't need to revisit those sites but a couple of times to the Louvre was a must.

6 weeks trip Summary

Was 6 weeks a bad idea? NO! 6 weeks was really pushing it to visit all the places we did. We could have used more nights in some locations but 6 weeks was still a great length of time and we were ready to go somewhere else within just a few days of being back.

What do you take on a 6 week multi-country trip?

We started with our packing list from last year and made a few adjustments, the climate was going to be rainier rather than hot. Check out our Packing List in Tips.

We made the mistake of checking our bags in San Diego and they were lost in Heathrow for 24 and 48 hours. They were carry-ons so we could have carried them on but didn't. Never again!