6 weeks in 2013 – Flying into Vienna, out of Madrid
41 nights
This seems odd – going to Israel by first flying into Vienna. The original concept was a couple of weeks in Israel followed by a couple of weeks in Spain, using award miles for business class flights. It didn't take much research to find that United had the best, most flexible routes with their Star Alliance partner airlines. Tip: Think outside the box and check out alternative ways to your destination! On United, if we were to fly directly to Tel Aviv it takes 60,000 miles for the "Saver Award" business class – but there wasn't any availability when we wanted to go. Flying into Vienna was 50,000. We could visit that city and from Vienna, fly on a Economy Saver award ticket (17,500 miles) to Tel Aviv. There's no award level difference to fly to Tel Aviv from Prague, so… might as well visit Prague while we're in the neighborhood!
50,000 miles to fly into Vienna – business class
17,500 miles from Vienna – to Tel Aviv – Economy Saver
17,500 miles from Tel Aviv to Barcelona – Economy Saver
50,000 miles from Madrid back to San Diego
Tips:
United Airlines releases award seats 336 days in advance.
It's easy to change a United award reservation – especially if it is exactly the same flight and the award travel is available. See United's Award Ticketing options/service Fees. I had a great time changing the flight home from Madrid 3 different times. (…is it available? … shall I? Yes…CLICK! reservation changed) Finally stopped when this trip was 6 weeks long.
With the United Mileage Plus Explorer Visa card, you get 2 passes to an airport United Club VIP lounge. Handy for those long layovers.
American Airlines takes 67,500 miles from SAN to TLV, plus a high (>$250.00) per person fee on top of that due to using British Airways on this route. Easy to see why United is now our favorite airline.
---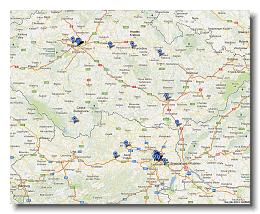 Vienna and Prague
This itinerary concentrates on these famous and beautiful European capitals.
We had 2 flight changes from San Diego to Vienna… no problem! We had business class all the way thanks to a little planning on using award miles. A "little" planning? 336 days in advance for United award travel. The first part of this trip takes place in Vienna and then Prague before flying to Israel.


---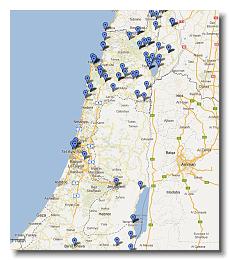 Israel
19 nights in Israel – Tel Aviv, Jerusalem, Masada, Galilee, the Golan, and the northern coast
3 nights in Tel Aviv, a week in Jerusalem, followed by a driving tour to Masada and then north to Galilee – 3 fantastic weeks in Israel.
In the middle of November 2012 with Palestinians firing rockets from the Gaza Strip into Tel Aviv, the idea of planning an Israel trip was not a happy prospect. We had our award travel tickets in and out of Tel Aviv but I hadn't started booking lodging yet. Fortunately for the world the cease fire finally held and by the middle of December I moved forward figuring out our Israel itinerary. If all out war broke out I had a backup plan – cancel the reservations in Israel and spend more time traveling in Czech Republic, Austria, Italy and Spain.
---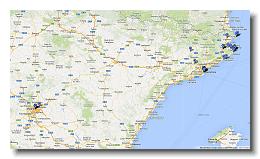 Spain
Time in Barcelona to revisit the Sagrada Familia, then a driving tour to see the Costa Brava, followed by 2 days in Madrid before the flight home.


---
6 weeks trip Summary
Was 6 weeks a bad idea? NO! We loved it – a great length of time and we were ready to go somewhere else within just a few days of being back.
What do you take on a 6 weeks multi-country, multi-climate trip?
We like to carry on our bags and a 6 week trip with climates from rain and cold to hot made REALLY evaluating what was in those bags important. Check out our Packing List in Tips.
---