Driving from Pinhao Portugal around Northwest Spain and back to Porto
On our Costa Brava trip last year we had Basque style tapas – pintxos – many times in Barcelona and Girona so of course we HAD to go to San Sebastián. It's no problem driving a Europcar rental rented in Portugal into Spain and we had a great loop trip to San Sebastián, the Picos de Europa, Santiago de Compostela and Pontevedra before heading back to Portugal.
Best things about the trip
Pintxos!
Hiking in the Picos de Europa
Excellent roads
Mostly great weather, wow, were we lucky!
Worst things about the trip
Very expensive parking in San Sebastian / Donostia (solved after the first 42 hours and $100 later)
View my map of Northwest Spain trip locations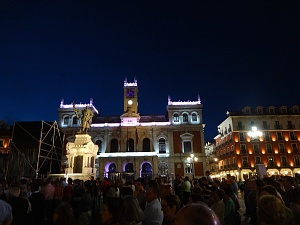 Plaza Mayor
Valladolid
1 Night in Surprising, Friendly Valladolid
Valladolid was a great stop on the way to San Sebastian and great to be back in the land of tapas – called pintxos in the Basque country…Read Story>>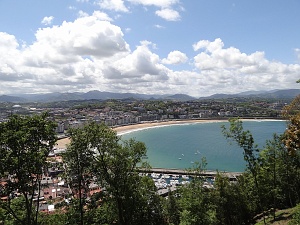 Bahia de La Concha from Mount Urgull
Donostia / San Sebastián
Pintxo Paradise – a Week in San Sebastián
We met Luis at 5:00 at the apartment and we got more than just the keys – we had terrific concierge service! Then out the door for the first night of pintxos Donostia style. The locals don't stay in one place for pintxos, they have a bite and a drink and move on to the next place…Read Story>>
The Picos de Europa
Our 4 nights in the Picos were the ones most dependent on good weather. The middle of May is definitely NOT the tourist season, but we were lucky with the weather and got to do some Picos hikes in beautiful weather.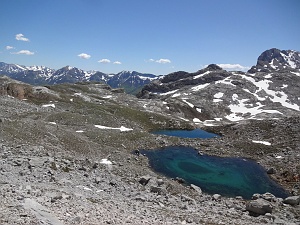 Picos – Lagoons of Lloroza
Fuente Dé
The view to the Cantabrian mountains from the top of El Cable is spectacular. Even though it was after 3:00pm we had plenty of time to do a little hike as far as the snow toward the Pass of Horcados Rojos…Read Story>>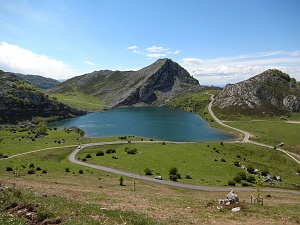 Lago Enol, one of the Covadonga alpine like lakes
Cangas de Onis
Cangas de Onis turned out to be a perfect "country break". It was quiet (and cool!) the 3rd week of May, we rolled in on Monday afternoon and it was like a ghost town… Read Story>>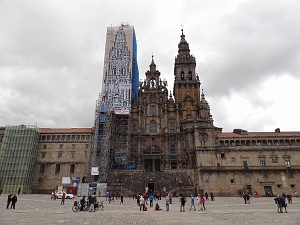 Catedral de Santiago Portico de la Gloria under renovation
Santiago de Compostelo
3 Nights in Santiago de Compostelo
Over a 4 hour drive from Cangis de Onis to Santiago de Compostelo, but with a check in at the apartment at 5pm we had a relaxing morning before hitting the way to Santiago…Read Story>>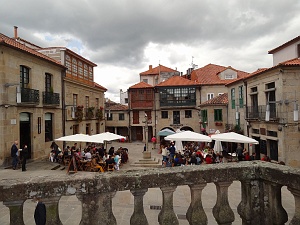 Lively and pretty little Plaza de A Lena across from the Museum
Pontevedra
Pretty Plazas, Drives, and Hikes – 3 Nights in Relaxing Pontevedra
Pontevedra was a great change of pace after busy, busy Santiago de Compostela – there were very few tourists around the last week of May. Terrific place to relax in the evenings after drives and hikes and a pretty town to visit…Read Story>>
NW Spain Summary
We love Spain and this trip to the northwest was terrific. Fantastic pintxos any time of the day or night. Spectacular scenery and great hikes. It's called Green Spain for a reason, and May could be a rainy time to go – but we got lucky with great weather on the days we planned hikes and driving tours and had the umbrellas handy the rest of the time.
Driving: Easy, but the Garmin Nuvi maps need to be refreshed. Nuvi didn't know about some of the highways and kept trying to divert us to the older "N" roads. Really odd, the "new" highways have been here for years.