A trip back in time, the Grand Canal in 1998!
Our introduction to Venice was in 1998 when we strolled out of the Santa Lucia train station to the Vaporetto (bus boat) stop outside and hopped on to see the magic that is Venice from the Grand Canal.
Around Vaporetto stops Ca' d'Oro and Rialto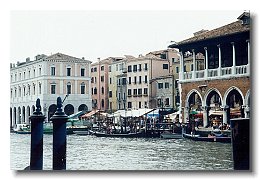 Rialto fish and produce markets – Mercato di Rialto
Vaporetto Stop – Ca' d'Oro
Looking across the canal from the Ca'd'Oro stop you have a view of the Venice markets. The Venice fish market is in the building with arches on the right – and the open air fruit and vegetable market on the left.
There's a traghetto crossing before the Mercato Rialto stop, which is right in front of the produce market
Beyond the open air produce market is the building Fabbriche Nuove di Rialto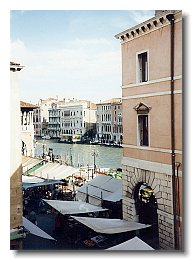 Mercato Rialto
Vaporetto Stop – Mercato Rialto
View of the Venice Fish and Produce market in the morning
The Mercato Rialto stop is in front of the open air market. Across the canal you can see Ca'd'Oro and the Ca'd'Oro valporetto stop. The palace to the right of Ca' d'Oro is Palazzo Morosini-Sagredo.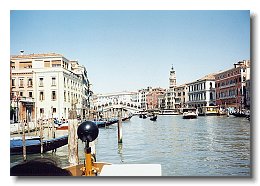 Rialto Bridge 15888
Vaporetto Stop – Rialto
Looking back down the canal you can see the Vaporetto stop Rialto on the right. The pink building on the right is Palazzo Bembo, beyond it is Palazzo Dolfin Manin (Hotel Palazzini Grassi) and then the Rialto vaporetto stop.
Next to the Rialto bridge on the right is Hotel Rialto. Behind it you can see the San Bartolomeo bell tower.
Between Vaporetto stops Ca' Rezzonico and Accademia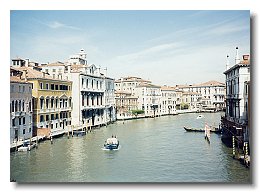 Palaces between Ca'Rezzonico and Accademia
View from the Accademia bridge toward Ca'Rezzonico
on the left side of the canal –
Palazzo Querini
Palazzo Contarini degli Scrigni
Palazzo Contarini Corfu
Palazzo Loredan dell'Ambasciotore (government)
Palazzo Moro (Palazzo Farsetti?) (government)
Palazzo di Madame Stern (hotel)
Palazzo Contarini-Michiel
Galleria Ca'Rezzonico
The only building you can see on the right is Palazzo Giustinian-Lolin
Between Vaporetto stops Accademia and Santa Santa Maria del Giglio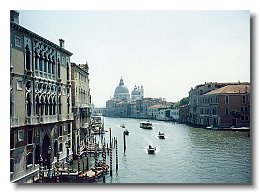 Between Accademia and Santa Maria del Giglio
From the Accademia bridge
Looking toward Santa Maria della Salute off in the distance, the Palazzo Cavalli-Franchetti is the first palace on the left. Palazzo Barbaro is next to it.
Further up the canal on the right is Palazzo Barbarigo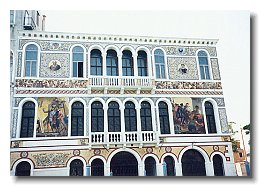 Palazzo Barbarigo
Palazzo Barbarigo
16th Century palace on the Grand Canal, decorated with mosaics of Murano glass that were applied in 1886 by the then owners, a family of Murano glassmakers.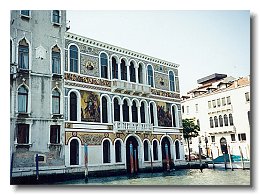 Palazzi Barbarigo, Mura and Loredan
Looking back toward the Accademia bridge, view of Palazzo Barbarigo between Palazzo Mura on the left, and across a small canal Palazzo Loredan on the right.
Between Vaporetto stops Salute, Santa Santa Maria del Giglio and Valaresso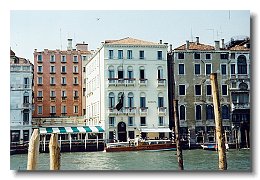 Palazzo Badoer Tiepolo – Westin Europa
Palazzo Badoer Tiepolo
Palazzo Badoer is now the Westin Europa & Regina Hotel, across the Grand Canal from Santa Maria della Salute.
To the right of the Westin Europa is Palazzo Treves de Fonfili
Vaporetto Stops
Ferrovia – The train station railway

Down the canal on the right – San Simeone Piccolo
Under the Ponte degli Scalzi

Riva da Biasio
Ca' San Marcuola. – next to unfinished Church of San Marcuola

Up the canal on the right – The Turkish Exchange (Gray building)
Up the canal on the left – Casino
White plaque commemorating composer Ricard Wagner who died there

San Stae

Up the canal on the right – Ca' Pesaro – Facade is on the side also, most are only on the front. Houses modern paintings

Ca' d'Oro

Art
Up the canal on the left – the Fish Market

Mercato Rialto

Open air market and fish market
Up the canal around the bend – Ponte Rialto

Rialto Bridge

Commercial district – only area with sidewalks on the canal
Up the canal – 2 palaces with arched windows that are now civic buildings (city hall and mayors office)

San Silvestro

Merchants' Palaces – the bottom story was where they conducted business, the upper levels where they lived

Sant'Angelo

Boat posts painted in family colors

San Toma

Up the canal on the right – Palazzo Balbi. 3 flags – Italy, EU, Venice
Up the canal on the right down another canal – Fire Station
Up the canal on the right – Ca' Foscari. Main building of University of Venice

Ca' Rezzonico

Galleria Ca' Rezzonico
Across the canal – Palazzo Grassi

Accademia

Accademia ../../gallery/
Bridge
Up the canal on the right – Guggenheim Museum, former home of Peggy Guggenheim

Santa Maria del Giglio

Across the canal – Palazzo Dario – funnel shaped chimineys
Across the canal – Salviati Building (mosaics)
Up the canal on the left – Gritti Palace Hotel

Salute

La Salute
Up the canal – Customs House and Art Museum

San Marco

Harry's Bar
Campanile
San Marco Basillica
Doge's Palace
Bridge of Sighs
Across the water – San Giorgio Maggiore and Giudecca

San Zaccaria